Are you an eCommerce merchant who's feeling lost in the sea of endless product options?
There is a huge number of products available with endless competition, which makes it hard to find trending products online. But don't worry! You're not alone in struggling with this, there are a vast number of eCommerce merchants who are trying to find a way out of this situation.
Seeing this, I thought to disclose the most profitable products to sell on eCommerce stores, that you should think about selling on your own online store.
In this blog, I'll be describing the following areas for each best-selling product or niche, so that you can figure out what to sell on your eCommerce store.
The areas I'll describe are:
Specialty of products
Their market value
And their target audience
Shall we start then?
Best Products to Sell on Your eCommerce Store
Most times we make rush decisions that end up being regretful acts. So to make an informed decision for your eCommerce store it's better to conduct proper research on "What is most beneficial to start selling online?".
As there are other elements to consider except then the instant urge to start selling products online. So first and foremost check;
If the product is a short-term trend or if the market value will increase in the future
If the product has higher profit margins or not
Check the competition for the product in the market
In a hurry? Okay, we're already starting with the list of best products to sell on your eCommerce website.
1. Air Fryer
I'm adding air fryers to the top of the list because they have brought a lot of convenience to people's lives, are highly in demand, and are expected to grow in the future. If you're not sure why, let me give you some basic information.
I'm adding an image of what an Air Fryer looks like.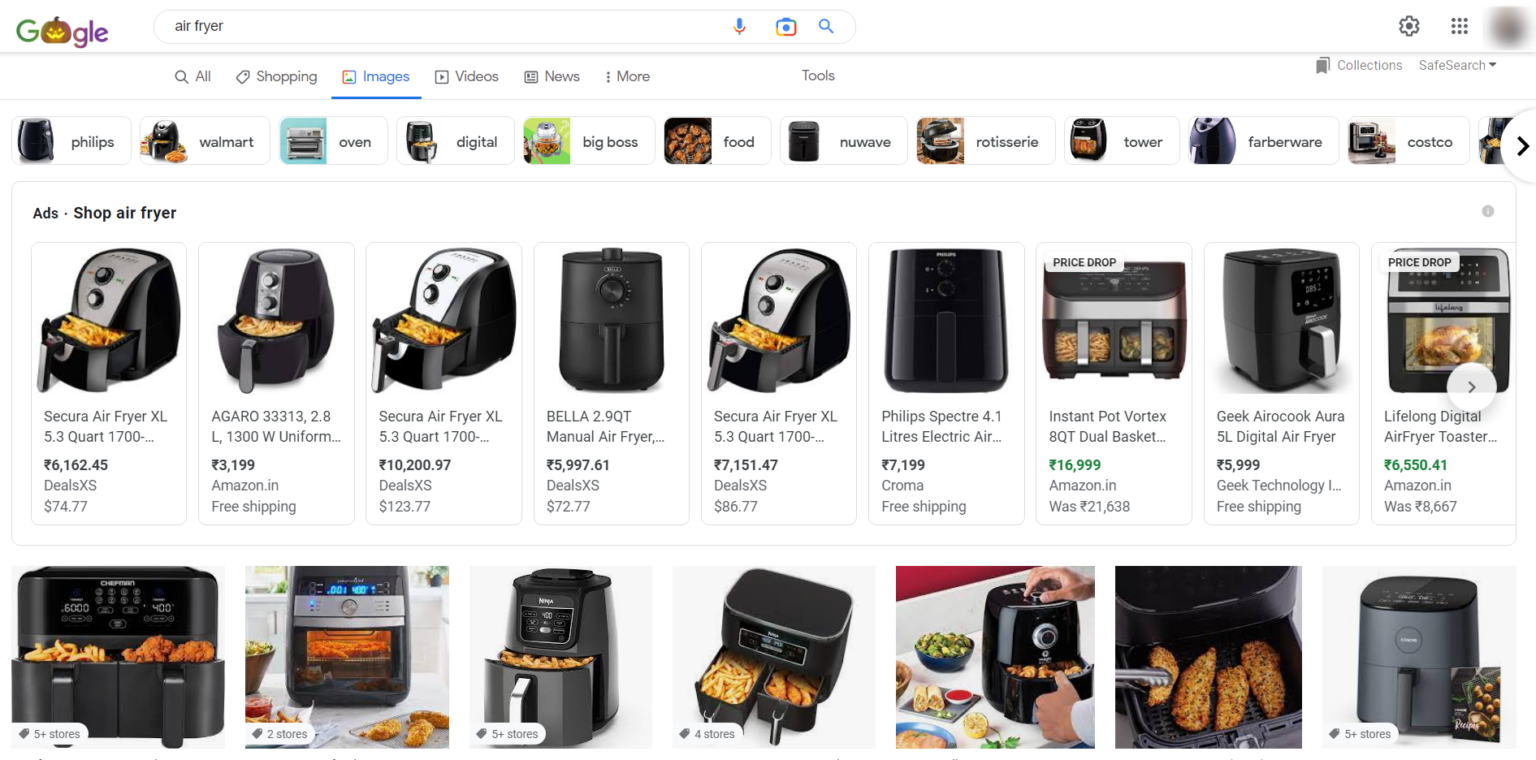 An air fryer is a device with the power of convection heat to cook fried foods – such as french fries, and chips – without actually frying them. It not only maintains the same taste but also cuts down calories and promotes healthy eating.
It has attracted health-conscious consumers who were always looking for a way to include their favorite fried foods in their healthy diets.
If you own a store working on a niche of "kitchen appliances" it's a perfect idea to consider selling air fryers.
Market size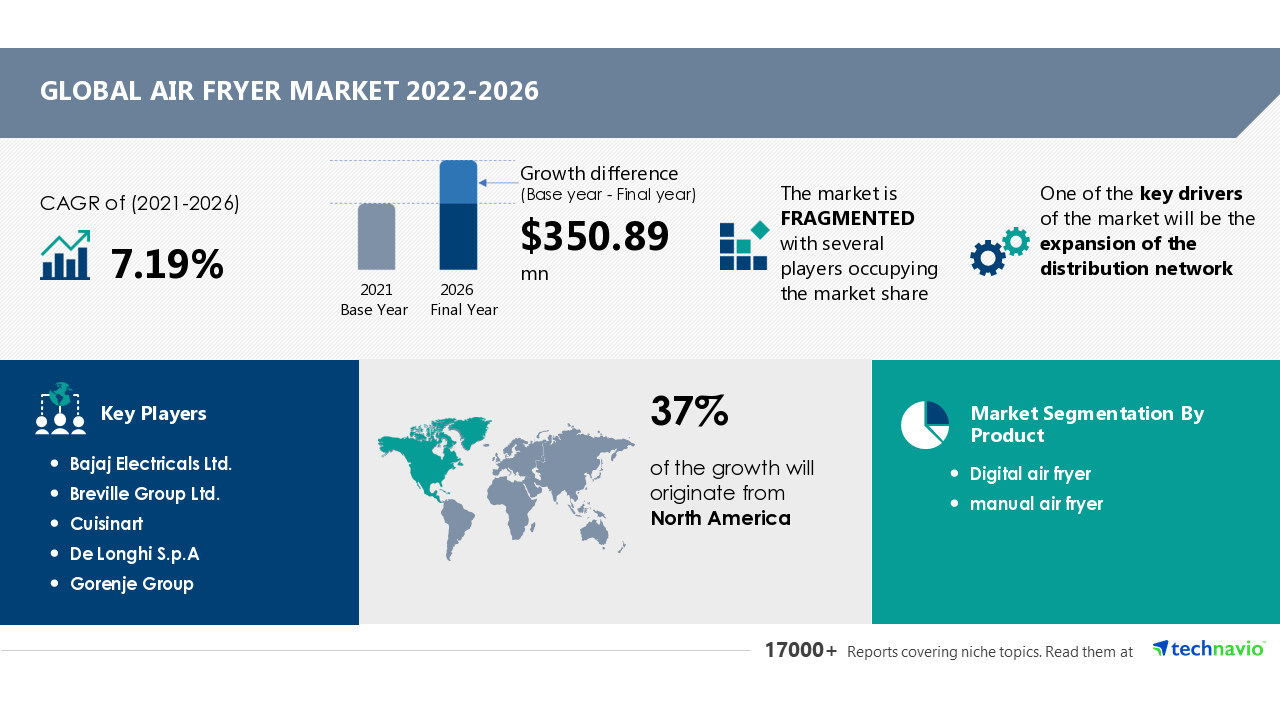 People nowadays are becoming health-conscious, which has impacted in market size of air fryers, and it is expected that the Air Fryers market will see a projected growth of $350.89 million around 2026.
People also feel air fryers are a better alternative to microwave ovens. While checking on google trends, it turns out as true. Over the past 2.5 years people's interest in air fryers has increased more than in conventional microwave ovens.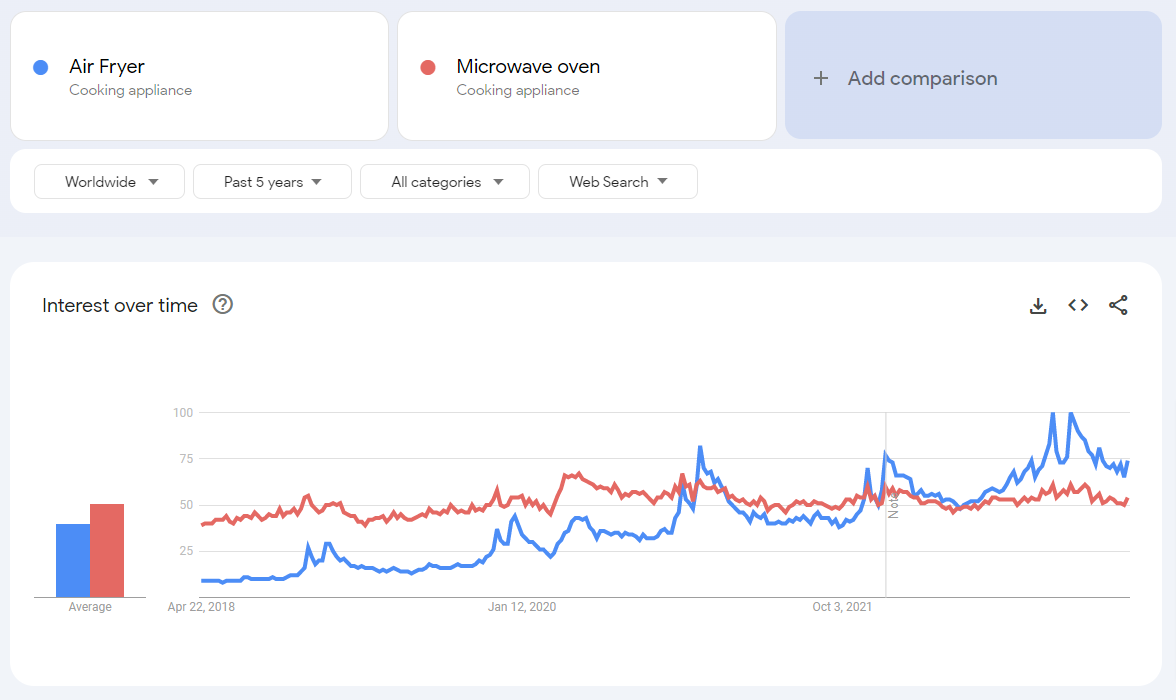 The image below shows the regions where people are highly interested in investing in Air Fryers.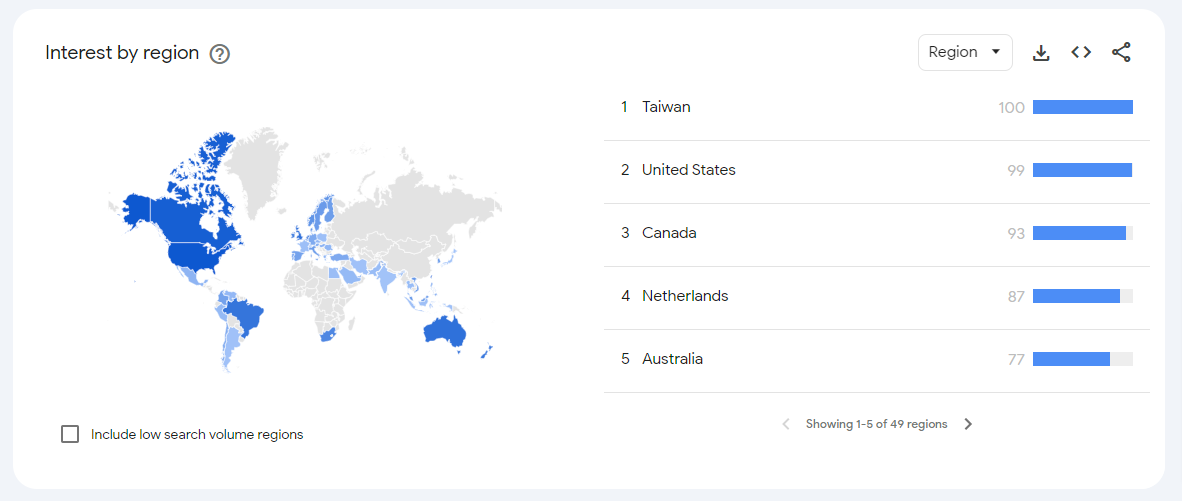 Target Audience
There are 2 target audiences for Air Fryer, and they include;
Health-conscious people that are looking to enjoy their favorite fried food more healthily.
And those who live in small spaces and don't have kitchen space to maintain microwaves or ovens.
The air fryer industry is set to sizzle like never before. You should also consider joining the air fryer revolution to see the profitable growth of your eCommerce.
2. Jewelry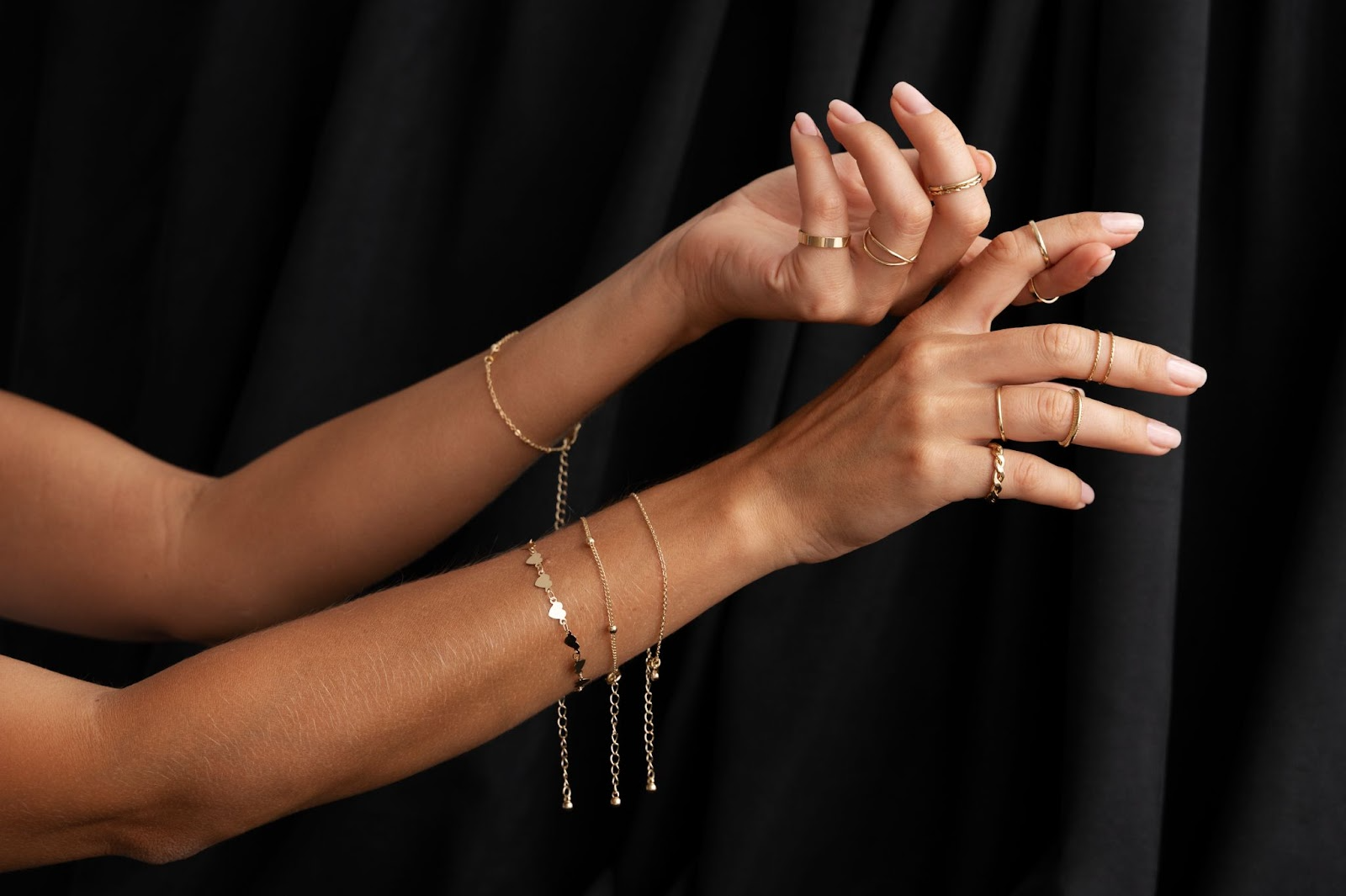 Jewelry is no longer limited to middle-aged women only. These days, everyone is obsessed with unique pieces of jewelry, regardless of gender, age, culture, or region.
And if you choose to start selling jewelry on your eCommerce website, you'll never feel a shortage of customers. Other than that, selling jewelry online has some extra benefits, such as;
High-profit margins of more than 70%
High demand in the market
Possibility to reach customers around the world
Lightweights and low shipping costs
Ease to scale the online business
Lesser storage cost
Market size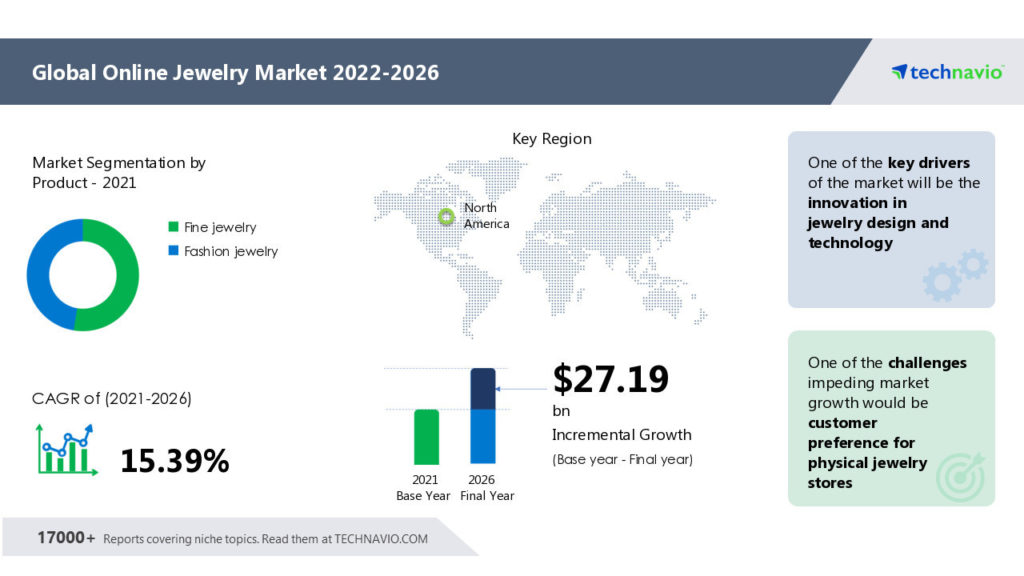 In 2020, the market size of the jewelry business was around $230 billion, which is estimated to increase by $307 billion, in the year 2026, which is an ultimate growth of $27.19 billion in 6 years.
The image below shows that people's interest in jewelry has been stable for the past 5 years, and the market stability of the product is a very crucial element to check before you choose to sell it.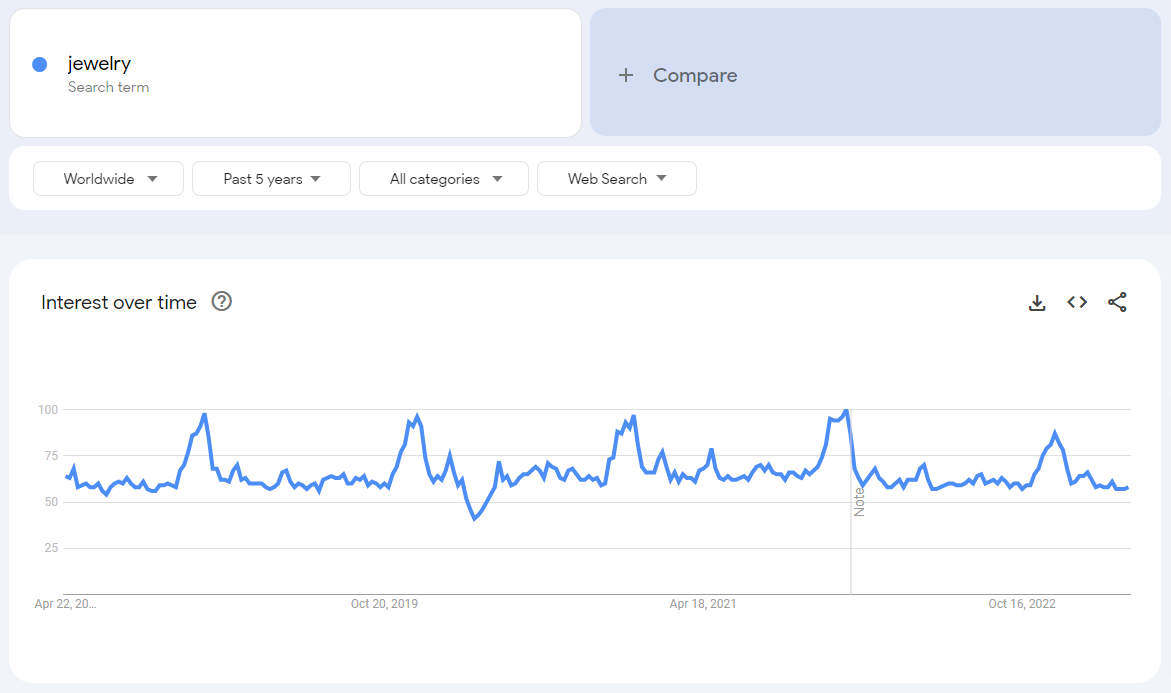 Target Audience
A basic human thinking on the target audience for jewelry would be "Women".
But in my opinion, It's better to consider "girls in their late 20s" and "Men" along with women. Now you may think, girls in their late 20s buying jewelry as make sense, but what kind of men wears jewelry?
Well, it can be a case where you're selling bracelets or have gifting options, then men can also be your target audience, as they can be utilized by anyone regardless of their gender. So, consider thinking about various aspects before you choose your target audience.
3. T-shirts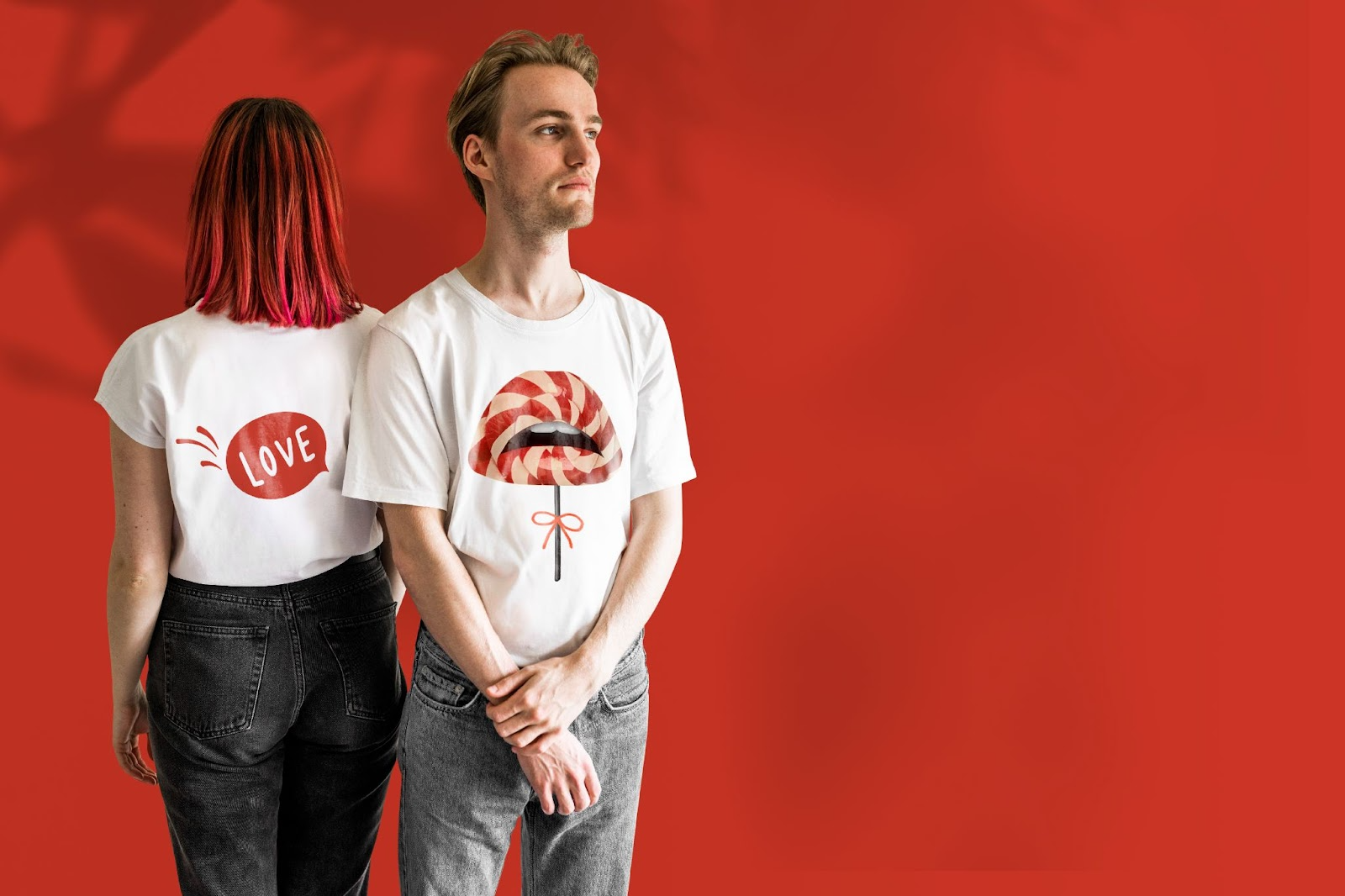 When you first saw t-shirts on this list, you might have thought, "That's so basic. I don't want to fall for something so simple."
Well, t-shirts can be a basic item, but they're a primary need in everyone's daily life. The demand for them is immense, and when you add art, words, or unique prints, it can become the most creative way to make money.
Another thing is that, this eCommerce niche products can attract the interests/personalities of a wide range of people, are highly affordable, and have high-profit margins.
Market size
According to market research, the global t-shirt market was valued at $206.12 billion in 2018. Experts predict that this market will continue to grow at a compound annual growth rate (CAGR) of 6% between 2019 and 2027.
The below trends describe that the market size of T-shirts is way higher than jewelry. Still jewelry business can be your choice if you want to sell luxuries in your store.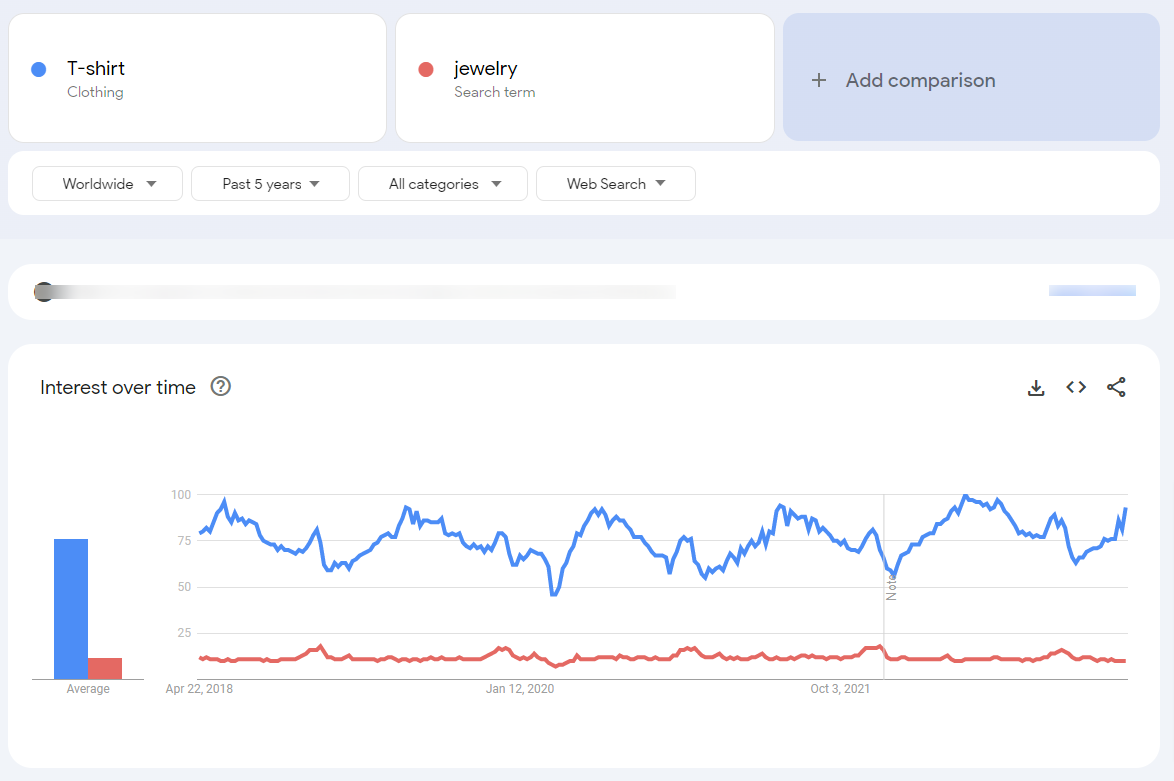 But also remember, they both are different niche, where jewelry belongs mostly to fashion accessories & t-shirts belongs to the clothing niche.
Target Audience
For t-shirts, there is no specific target audience based on gender or age. As they can be worn by anyone of any age or gender, making them a versatile and popular product.
Therefore, you do not need to conduct in-depth research on the target audience for t-shirts based on the types of t-shirts you are going to sell.
4. Aloe Vera Products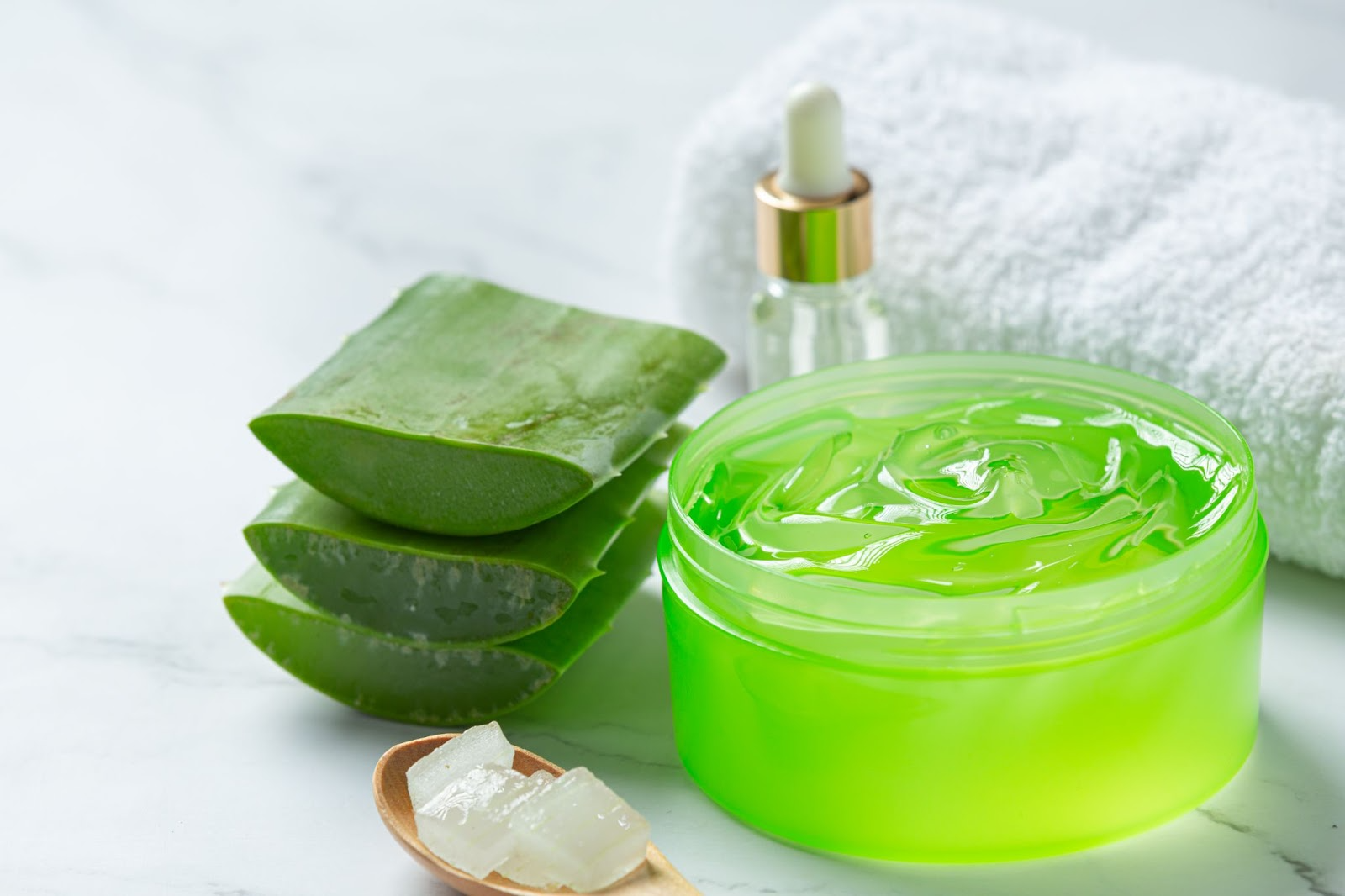 There is a growing trend of healthy living, which has increased demand for health and wellness products that do not include toxic chemicals.
So, how can we forget "Aloe vera products" that are packed with nutrients, and helps with skincare, haircare, weight loss, and more?
Aloe vera products are already very popular in eCommerce and selling them can turn out profitable, particularly in the health and beauty products category. So if you own an eCommerce website working in the health supplements and beauty products niche, you should consider selling aloe vera products on it.
But we'll still confirm it through proper research on its market size.
Market size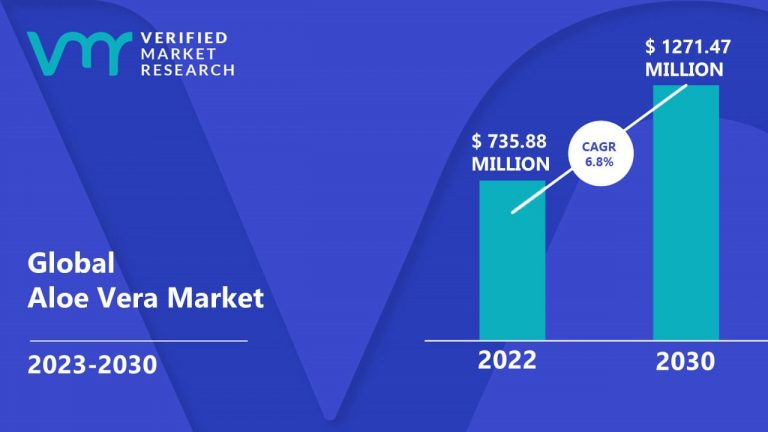 Analytics says that, in 2028 the market of aloe vera-based products will be increased by $1,055.47.
Now, as we discussed starting an aloe vera-based skincare products, below I'm sharing another piece of information relating to that.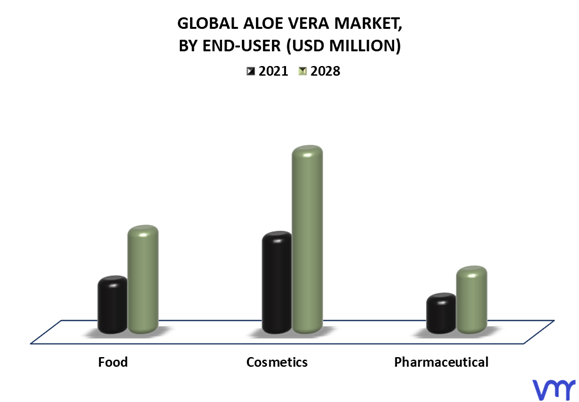 The chart shows the market growth of each industry that offers aloe vera products, I've added this here so that you can understand which industry has more potential for better eCommerce business.
Target Audience
It's common for any human to have minor skin and hair issues, that can be solved by aloe vera-based haircare and skincare products.
Hence, there is no rocket science behind finding a target audience for aloe vera products. You'll find them easily and everywhere.
5. Phone Cases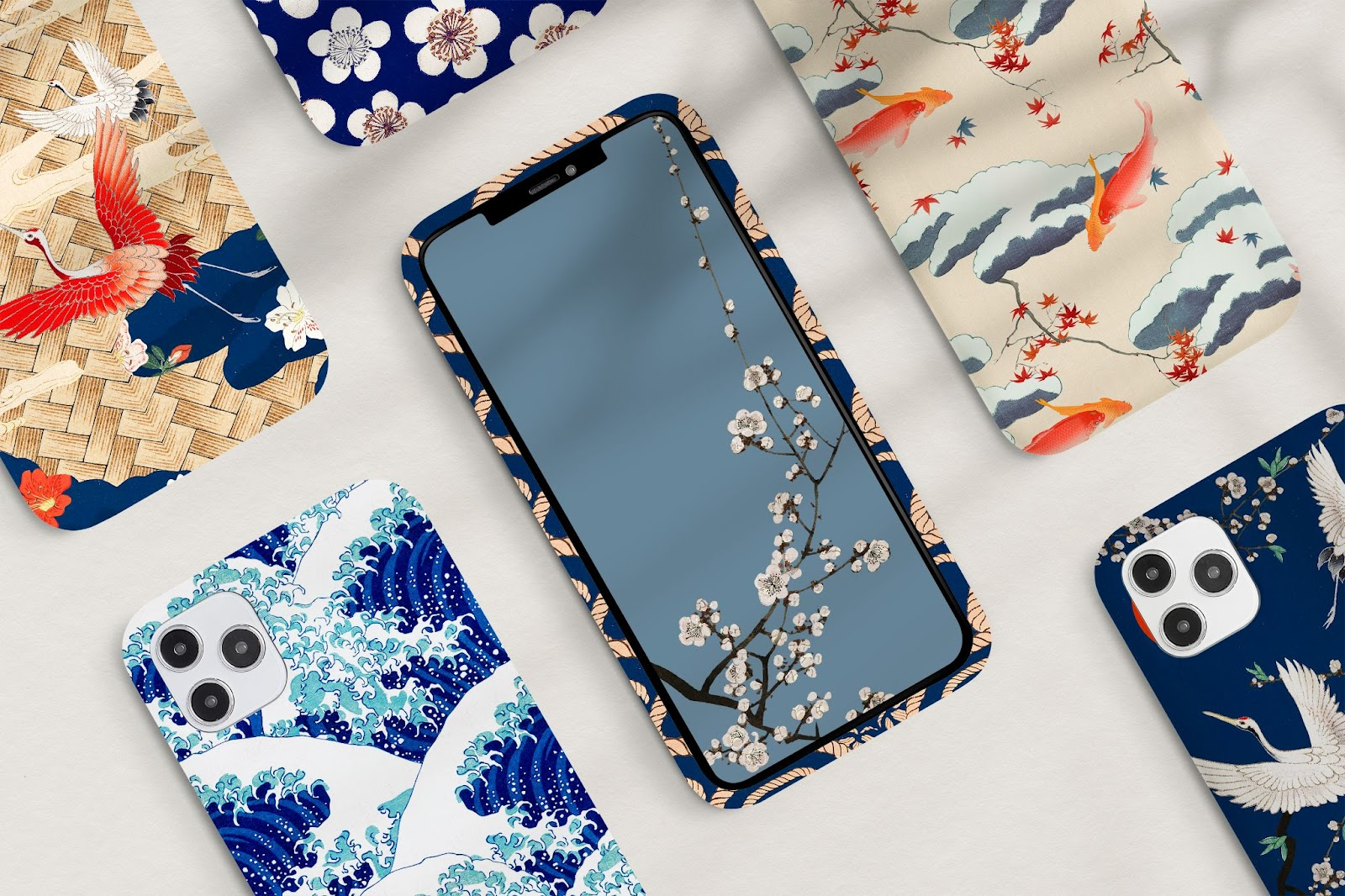 There are more mobile devices than people in the world. The cherry on top, phone cases are one of the highest-selling smartphone accessories. How?
Well, it's no longer a secret that people love to show off, and phone cases allow them to showcase their personalities and sense of style while protecting their devices. Same as t-shirts, you can start selling phone cases with creative art, words, or unique prints on them.
It's perfect if you choose to sell phone cases on your online store, as they've universal demand, are easily available, and have lower shipping costs. Again there are possibilities of adding a high-profit margin, of up to 80%, which is huge.
Let's know the real numbers of the market size of phone cases.
Market size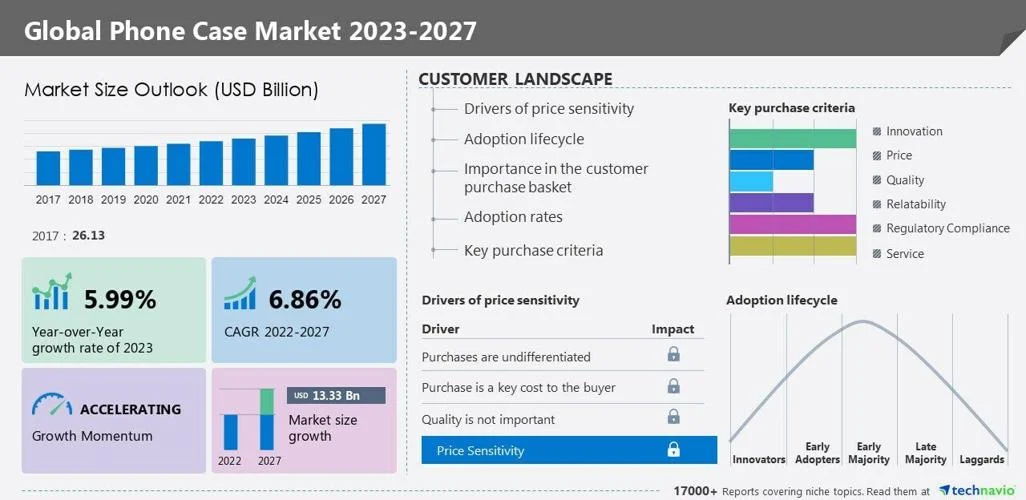 A recent survey revealed that the market size for phone cases is above to grow by $13.33 billion between 2022 to 2027.
Another analysis by Google Trends shows that phone cases have had the stable interest of people over the past 5 years.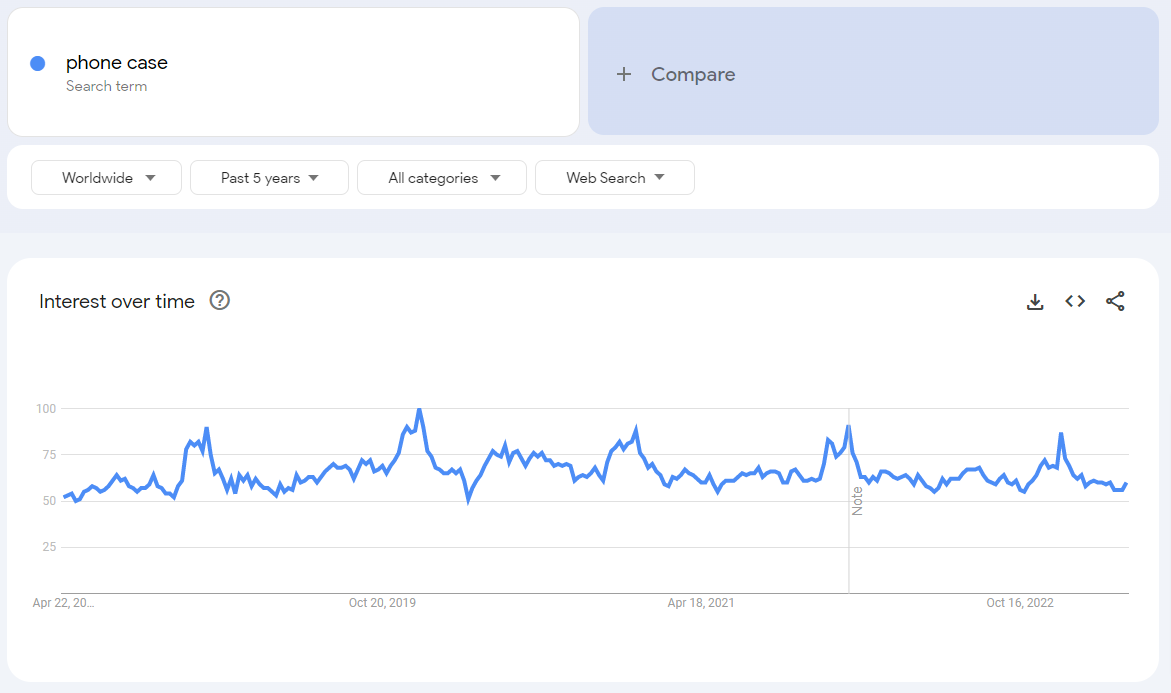 Target audience
It is usually those who've mobile phones, and they are typically people over the age of 18. Another thing is that the start age of people using mobile phones is decreasing day by day.
Conduct proper research on the popularity of smartphone models among different age groups. It helps you reach the right audience.
6. Green Tea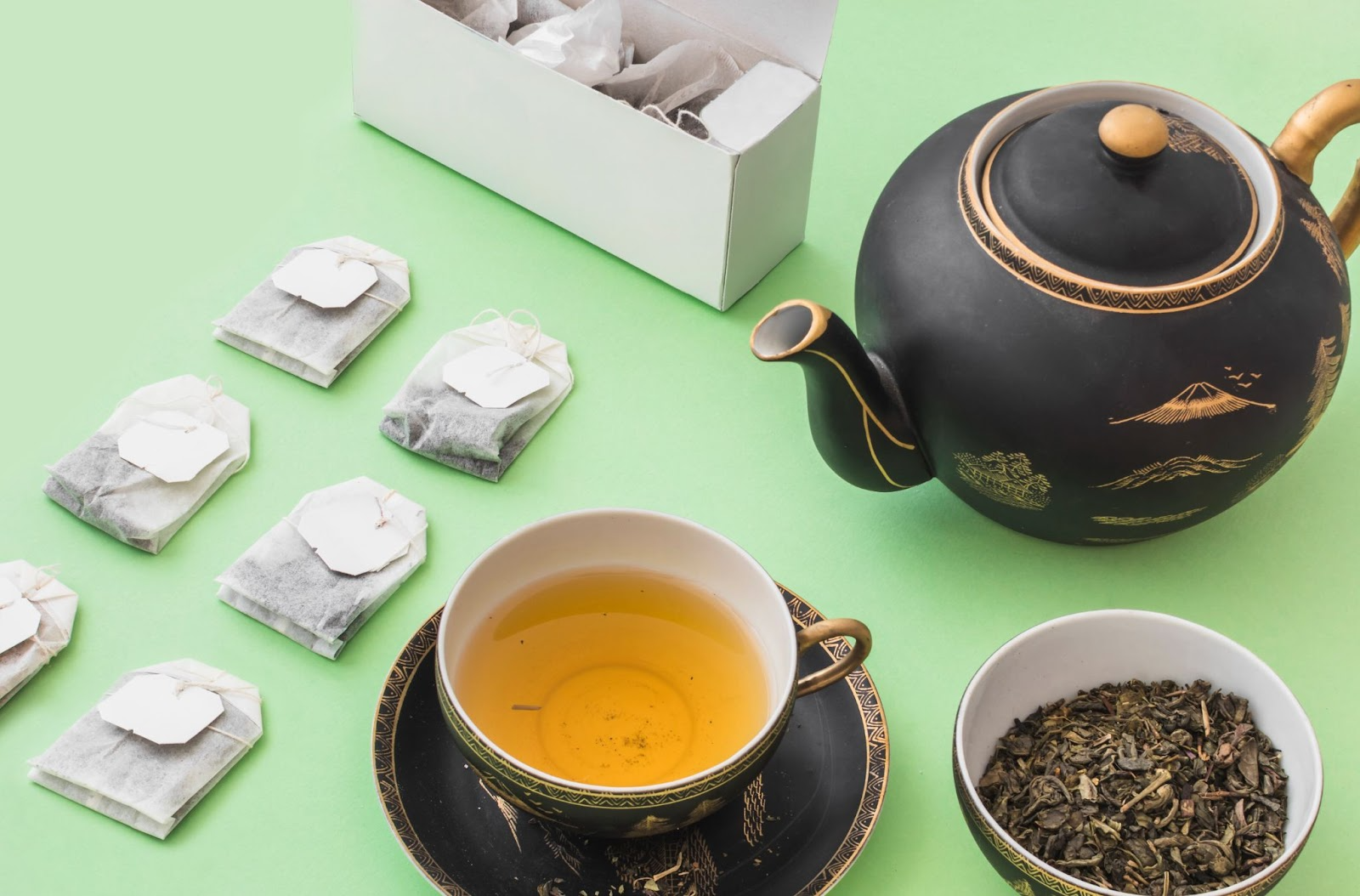 Green tea is a beloved beverage across the globe. And in recent years, it has also gained popularity as a health drink. One can enjoy it hot, cold, or in powder form. It is mainly known for the health benefits that it contains.
But wait, there is more. Green teas are now also preferred in various flavors such as aloe vera, cinnamon, lemon, wild berries, jasmine, and more that suit every palate.
And if you're looking to dip your eCommerce toes inside a flavorful and healthful green tea online business, it has the potential to be one of the most profitable ideas.
Market size
The Green Tea market is witnessing remarkable growth, estimated to reach $26.16 billion by 2028, which was around $13.41 in 2021. This indicates a robust CAGR of 8.71% during the forecast period.
As discussed earlier, the green tea market is divided into 5 major product categories: green tea bags, green tea instant mixes, iced green tea, loose leaf, and others.
Among them all, the loose leaf market is expected to expand in recent years, and the chart below describes it all.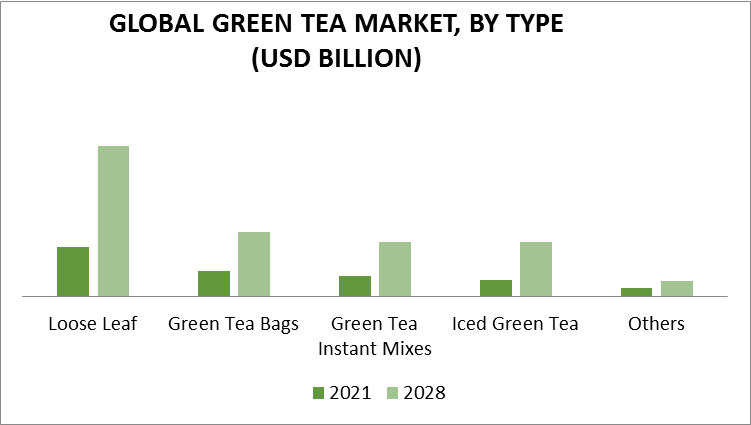 Target audience
Generally, the target audience for green tea includes individuals who are:
Health-conscious
Fitness enthusiasts
Seeking natural and organic options
Seeking alternatives to caffeine
Interested in weight loss
In short, the target audience is those who prioritize natural health and fitness products to lead a healthy lifestyle.
7. Multivitamins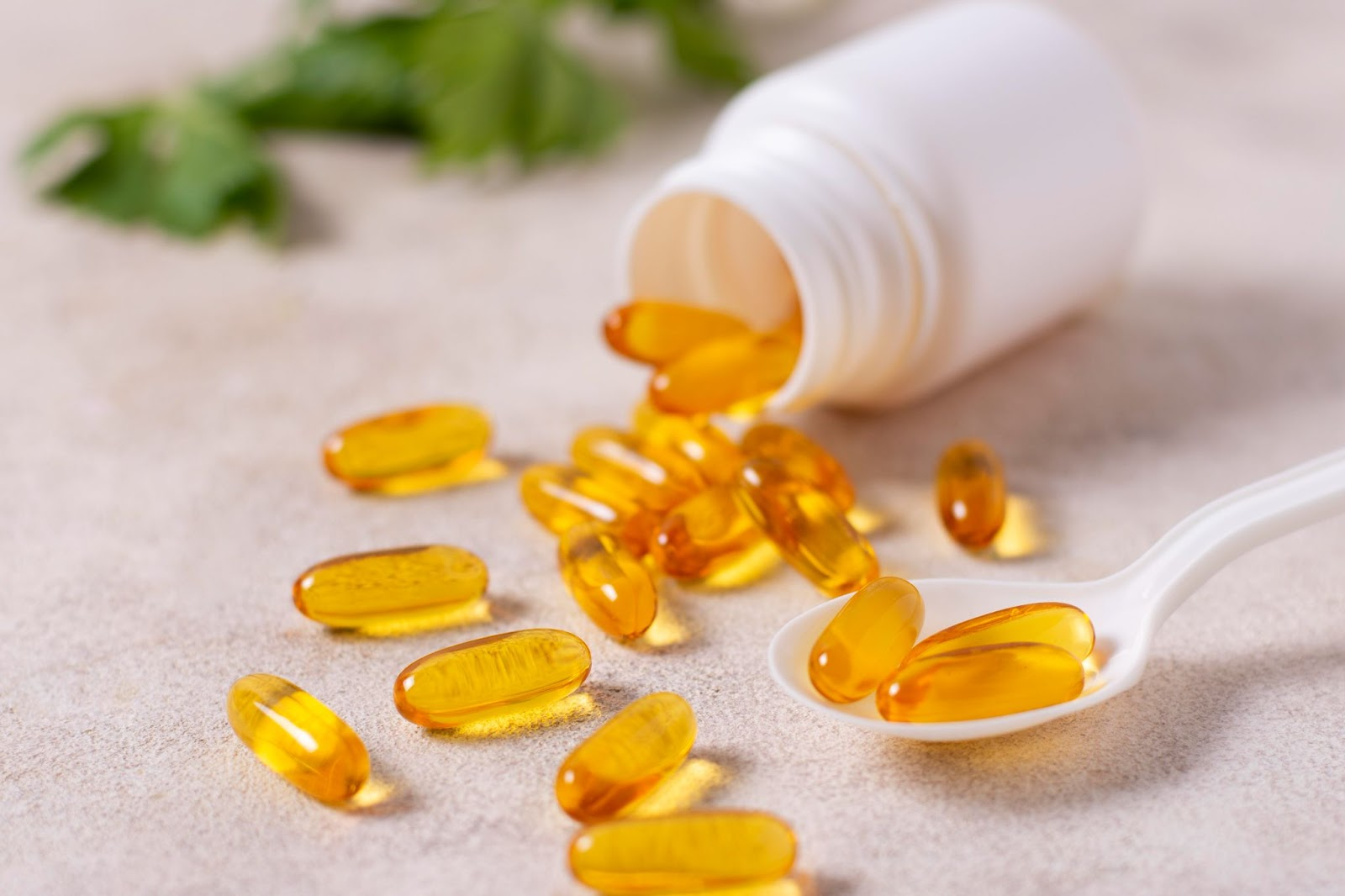 Multivitamins are a supplement, containing various vitamins, minerals, and other ingredients. They are available in the form of tablets, capsules, chewable gummies, powders, and liquids.
Especially after covid-19 pandemic, many people are conscious of how "balanced" their health is. And multivitamins help them add the necessary vitamins and minerals that were missing to their regular diet.
Such healthcare products have a huge offline market, but slowly and steadily, the online shopping market has started growing. This means it is an absolute opportunity for you to consider selling multivitamins in your online healthcare store.
Now, let's understand the market size of multivitamin products.
Market size
In 2020, the global market size of multivitamins was around $44.12 billion and is expected to grow by 6.2% of CAGR from 2021 to 2028.
It is a surprising growth. Now, let's go through the Google Trends report.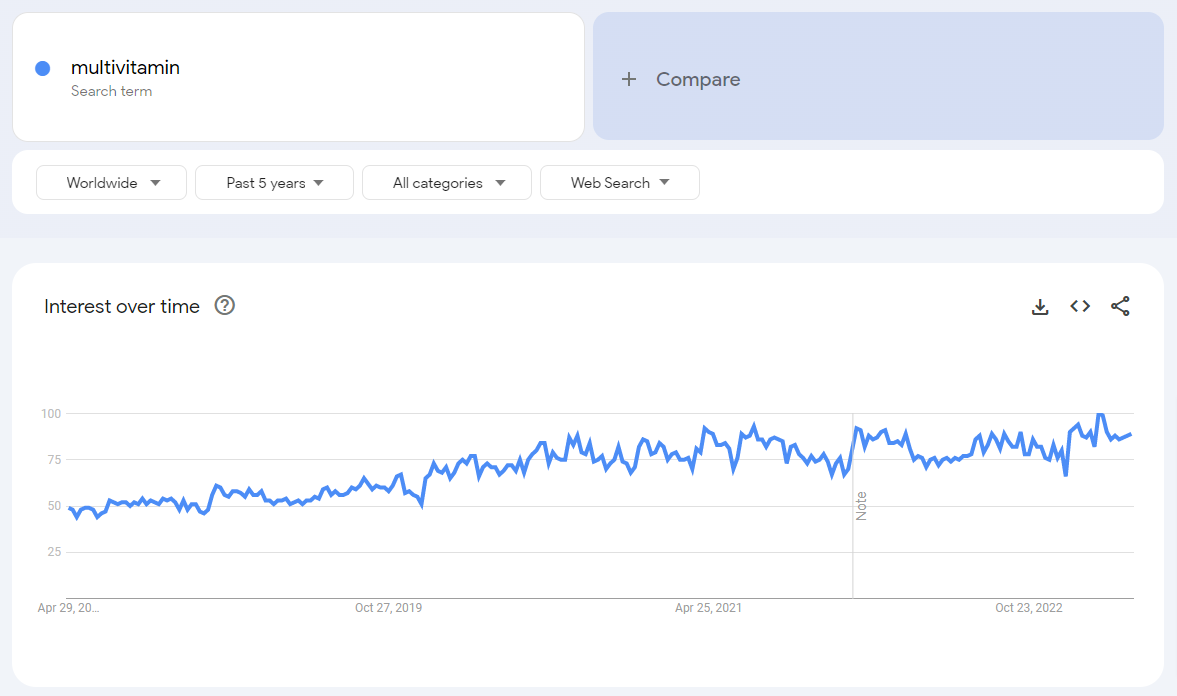 According to a Google Trends report, there has been a steady increase in people's interest in multivitamins over the past five years.
I also told you that multivitamins are available in various forms. So let's check their market share as well.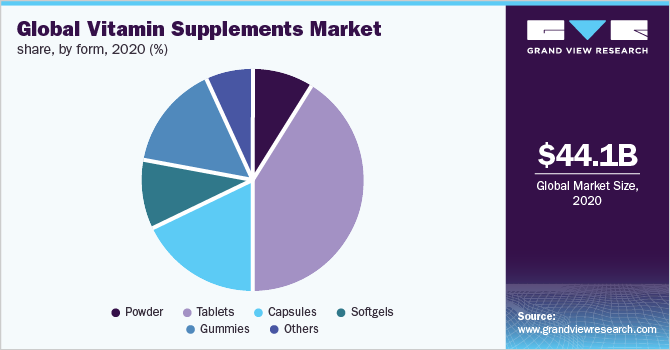 The data shows that there is the highest market share of multivitamin tablets. So, consider them while deciding on what to sell on your healthcare online store.
Target Audience
The target audience for multivitamins generally includes individuals who are 18 years of age or older, including men, women, and elder citizens.
8. Shapewear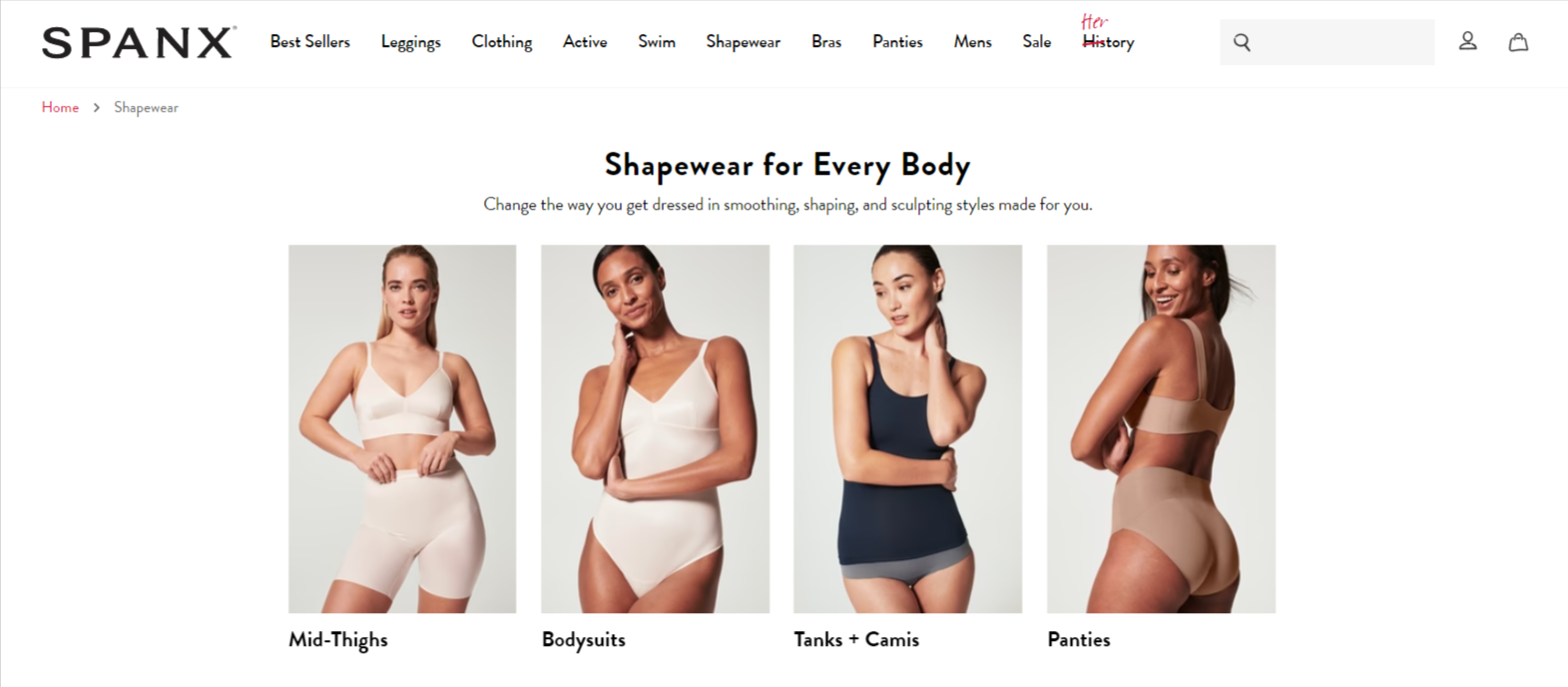 The most common way of getting into shape is by spending long hours at the gym. However, since the launch of shapewear in the market, it has taken that position.
Shapewear, also known as compression wear, is a tight-fitting garment that helps the body maintain proper alignment. The global demand for shapewear is growing rapidly due to its instant shape-transforming abilities.
If you own a fitness or fashion store, you should consider selling shapewear. There is high demand in the market for them, and competition is lesser in comparison, which makes it the most profitable market to tap into.
Market size
By 2028, the global shapewear market is estimated to reach $3.7 billion, which will be a growth of around 8% CAGR from years 2021 to 2028.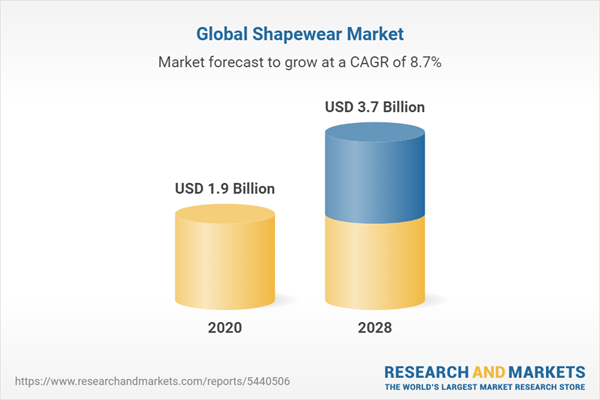 If we check the popularity of shapewear on Google Trends, we can admit that there is a good future for investing in the shapewear online business. There are more and more people getting interested in the benefits of shapewear over time.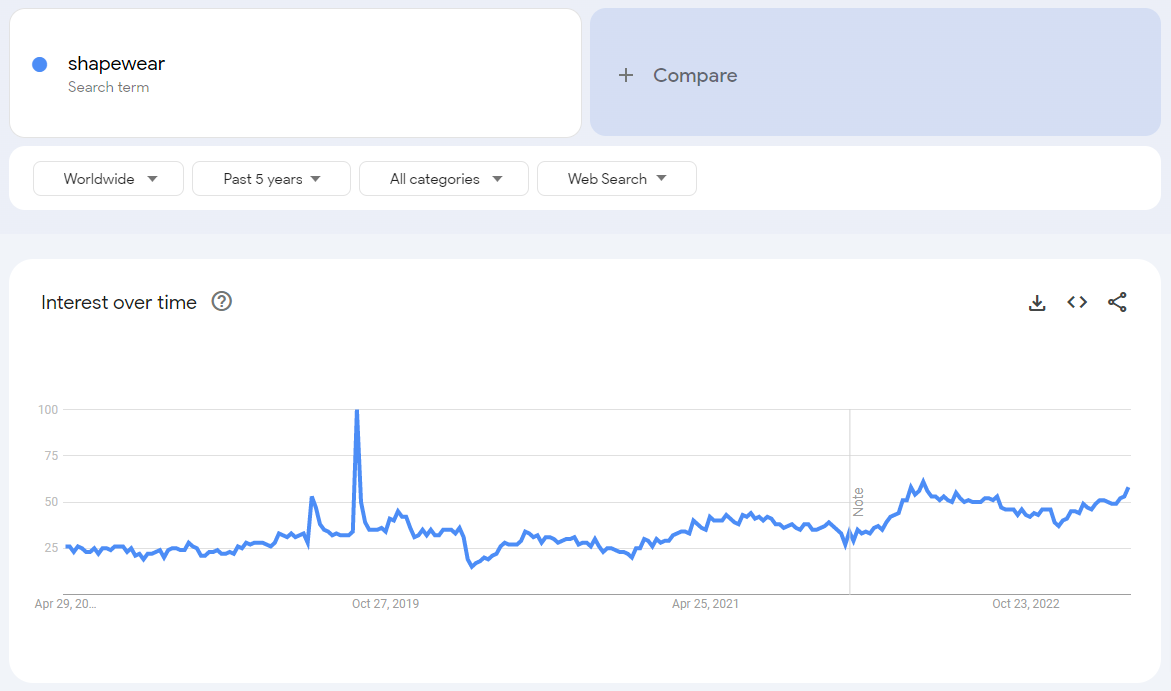 Target audience
The target audience for shapewear can be;
Sportspeople
Fitness trainers
Those who are looking to get in shape
Moreover, anyone above the age of 18 can be your target audience, especially women.
9. Hair Wigs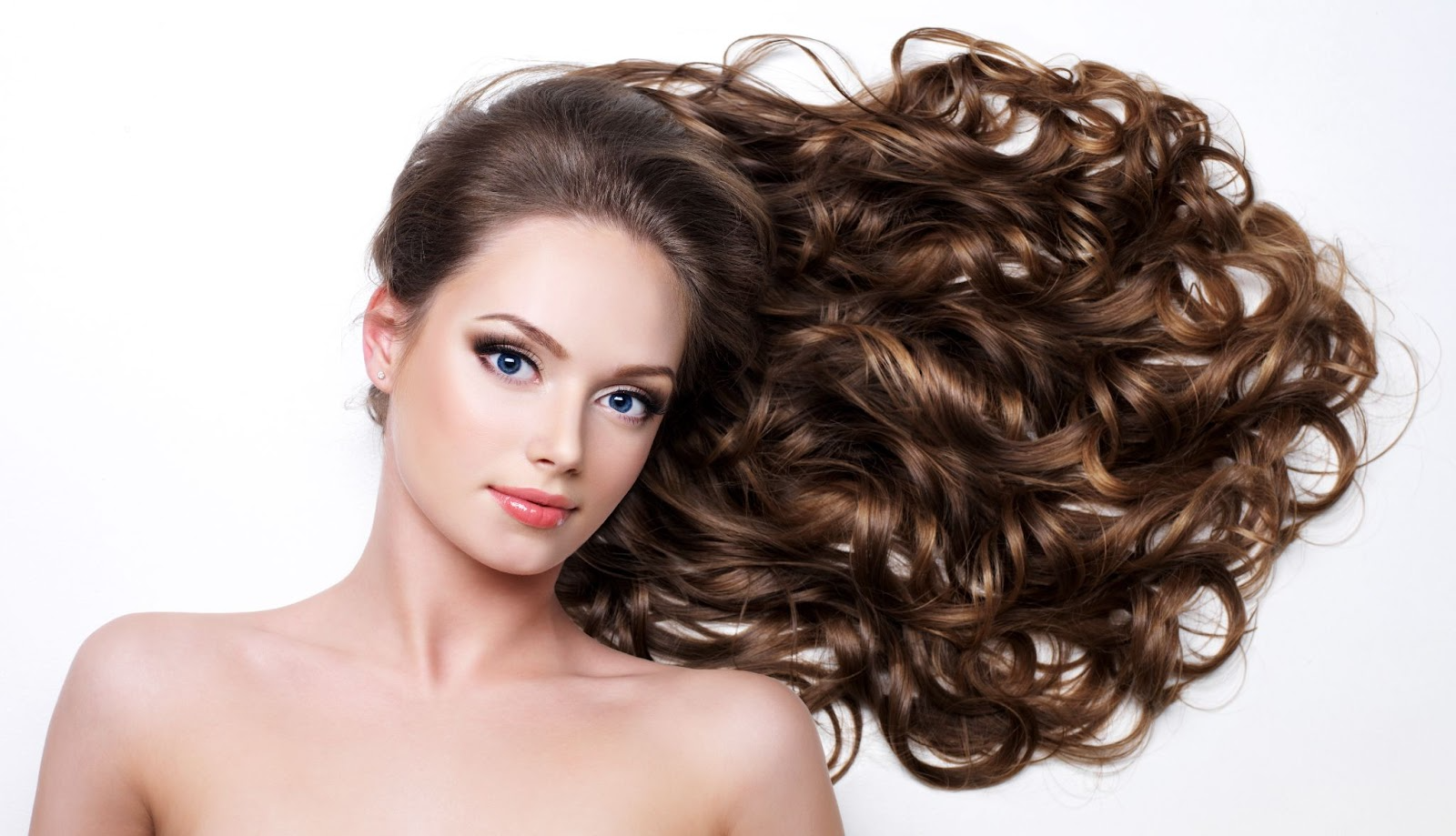 Hair wigs are a popular product on eCommerce sites for two primary reasons.
First, they allow people to try out new hair trends without damaging their natural hair.
Secondly, they provide a way for people who have lost their hair due to health issues, helping them restore their appearance and confidence.
If you own an eCommerce website in the beauty and personal care niche, the popularity of hair wigs makes it a worthwhile product to consider selling. Even if you don't currently have a store, you could create a new eCommerce store dedicated solely to hair wigs and extensions.
But it's important not to get stuck in the mindset that physical retail stores are the only way to sell hair wigs, as the vast majority of people buy hair products online these days.
Now, let's check if market size for hair wigs and hair extensions.
Market size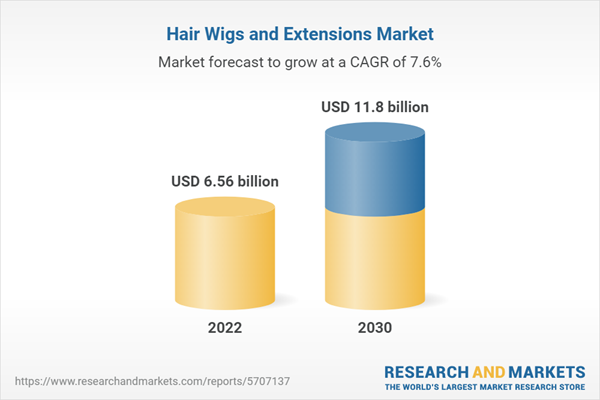 In 2022, the market size of hair wigs and extensions was around $6.56 billion. And a forecast shows that it will be expanded to $11.8 billion at the end of 2030, which is a growth of 7.6% CAGR.
If we check the popularity of hair wigs with Google Trends, it shows that people's interest has been stable for the past 5 years. This is a great sign to take a risk and consider selling it on your eCommerce website.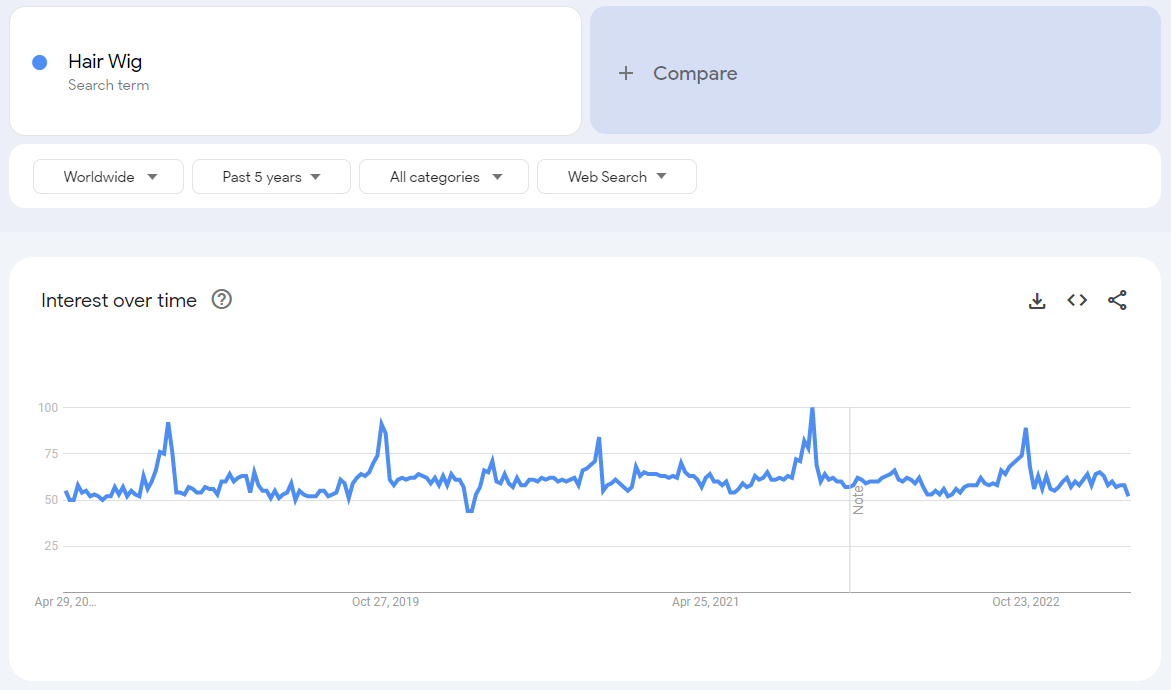 Target audience
Wigs are highly consumed by the film industry. So we can consider celebrities, models, and social media influencers as the target audiences. But as I told you that they are highly popular for people with hair issues, so consider them as well.
10. Yoga Mats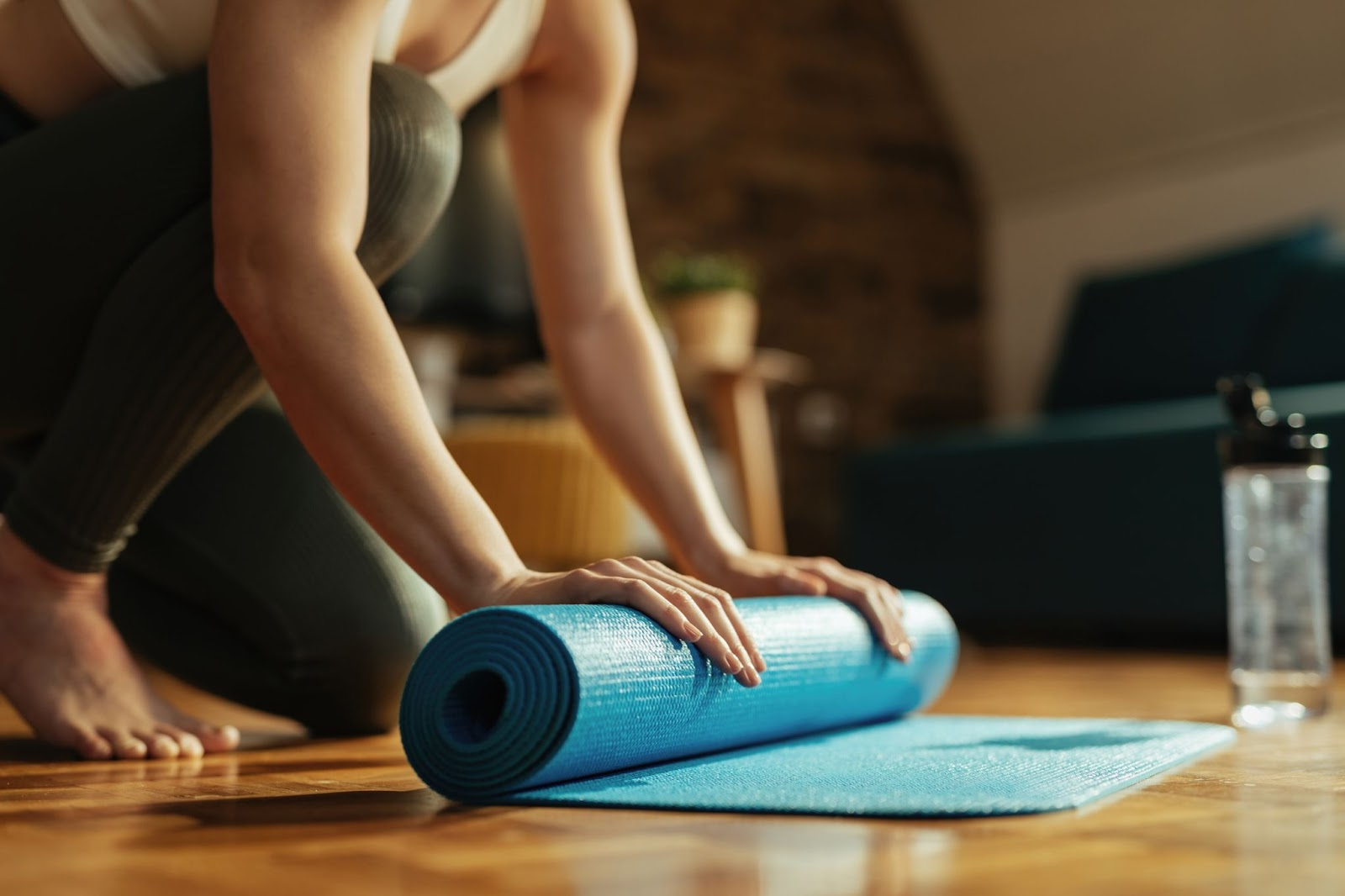 Yoga has tons of benefits!
Be it; stress, anxiety, depression, body pain, or digestive issues, it all can be cured by yoga to some extent, which has made it popular among a huge group of people.
The main thing connected to yoga that can help you generate high profits on your online store is yoga mats, which have a huge market globally.
The only thing you need to take care of while selling it on your online store is to compete with competitors. Because it is a huge market and is necessary to work on some extra steps to stay ahead of competitors.
But there are many ways to beat the competition, like making better research and selling yoga mats that are trendy, eco-friendly, and of better quality.
Market size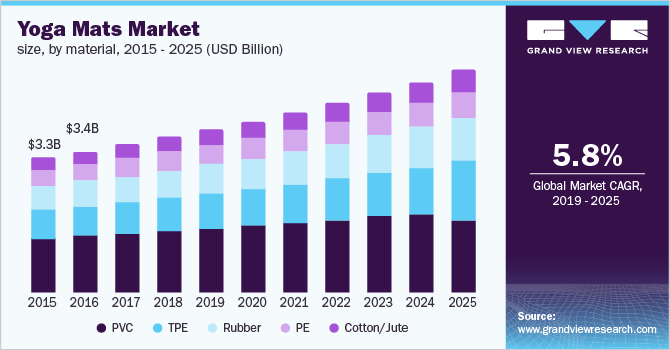 By 2025, the global market size of yoga mats will be valued at 17.32 billion, which will be a CAGR of 5.8%.
And as per Google Trends data, yoga mats have the steady interest of people over the time of 5 years.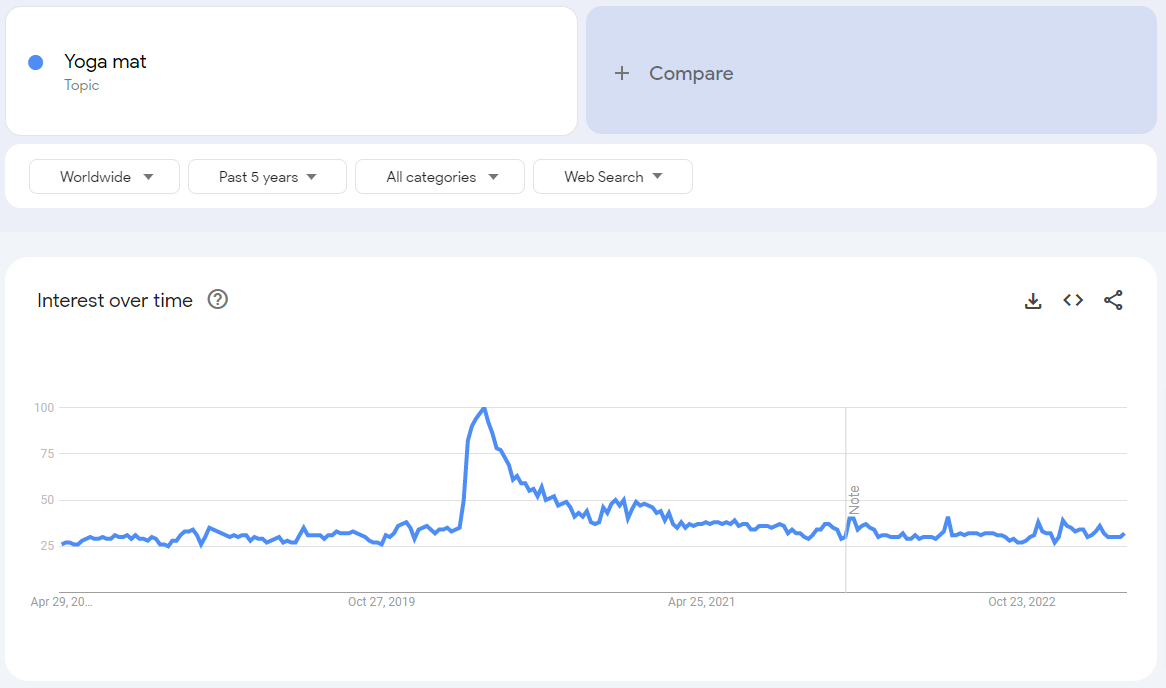 Target audience
Living without stress is nearly impossible for people. As a result, many individuals between the ages of 26 to 60 are turning towards yoga, which you can consider as your target audience.
Additionally, research shows that 70% of all who practice yoga are women. Therefore, conducting proper research on data will help you identify the target audience for yoga mats.
Here, our list of best products to sell on your own eCommerce store ends.
Through the list, I have tried to include products that belong to a variety of niches considering store owners working in the different business niches.
But still, you don't need to limit yourself to only selling products online which I've mentioned in this list. As many more products fall into this category, it's just about identifying the perfect fit for your online store.
If you're confused about how you'll finalize other products to sell on your eCommerce, don't be. Because I'm already explaining it below.
How to find the best products to sell on your eCommerce store?
Research!
Well, yes, nothing is more helpful than thorough research, when you're looking to find products that are perfect to sell on your online stores.
And here, I'm sharing how I researched to finalize the list that I shared with you above. So, you can also choose a similar path and get in touch with results.
First of all, I went on a hunt for trending products and checked if they are eligible for investing time, effort, and money. Same way, you can also look for some trending products in your business, commoditized and niche products, and list them all together.
Later I followed some steps, which goes like this.
Checking the market size of products
Checking product trends
Research the market segment
Checking if targeting the audience is easy or hard
Chat with existing sellers and end users to gather feedback
Now, let's understand what I did in these steps in detail.
Step 1: Check the market size of the products
Market size is made up of the total number of buyers.
It helps you determine if the product is worth selling on your eCommerce or not, by considering factors such as; its profitability, online sales, and revenue opportunities.
Actions to follow:
Open Google
Search "[product_name] market size [year]"
Visit any links shared on the search engine results page
Doing this will share the market size of the product in past years, and the expected growth in upcoming years. This helps identify if the chosen product has a scope or not.
If you're looking for country-specific results, you can add the country name before the year.
Step 2: Check product trends
You must check if the product you've chosen to sell on your eCommerce is not just a short-term trend and has maintained the interest of people for a longer period.
As such products have a limited lifespan, there are chances of drops in sales once the popularity fades away.
So how are you going to check that? Well, Google Trends will help us with that.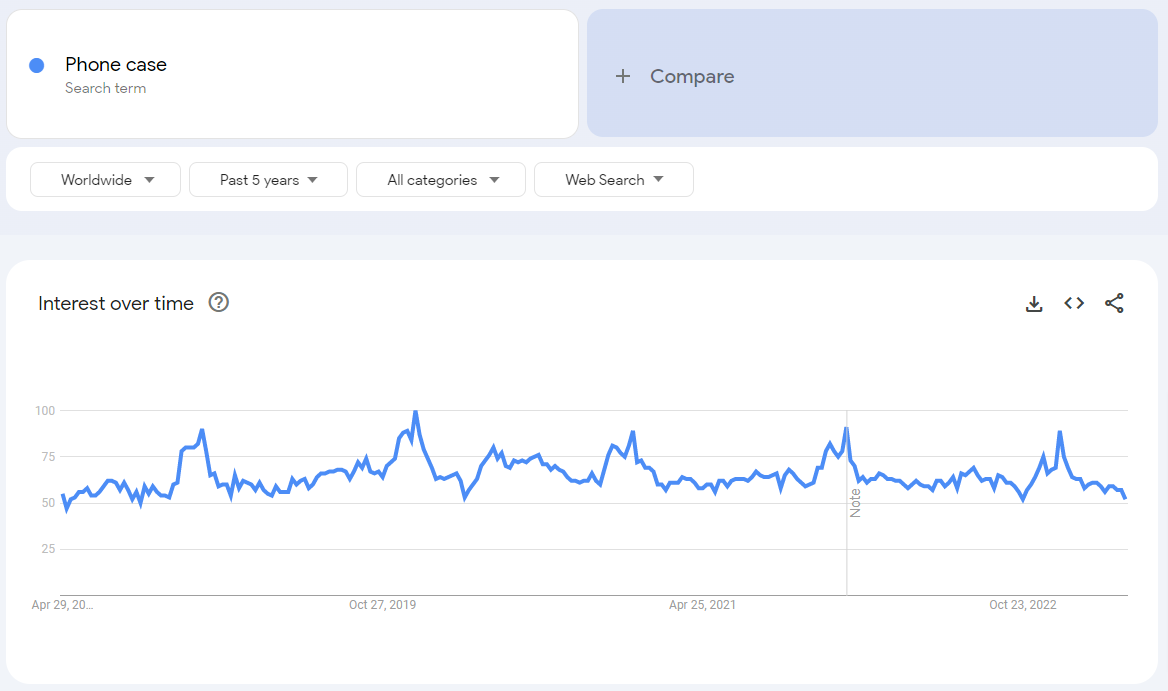 And once you make a search on Google Trends for your product, try answering the following questions.
What is the worldwide product demand in the past 5 years?
Is the demand graph leaning upward or downward?
Is there any sudden growth in demand in the past few months?
Is there any sudden drop in searches for products?
This will help you understand if the product will have stable demand in the future or not.
Moreover, there is also an option to compare demand and interests for various products altogether, which is full of convenience and I suggest you do so.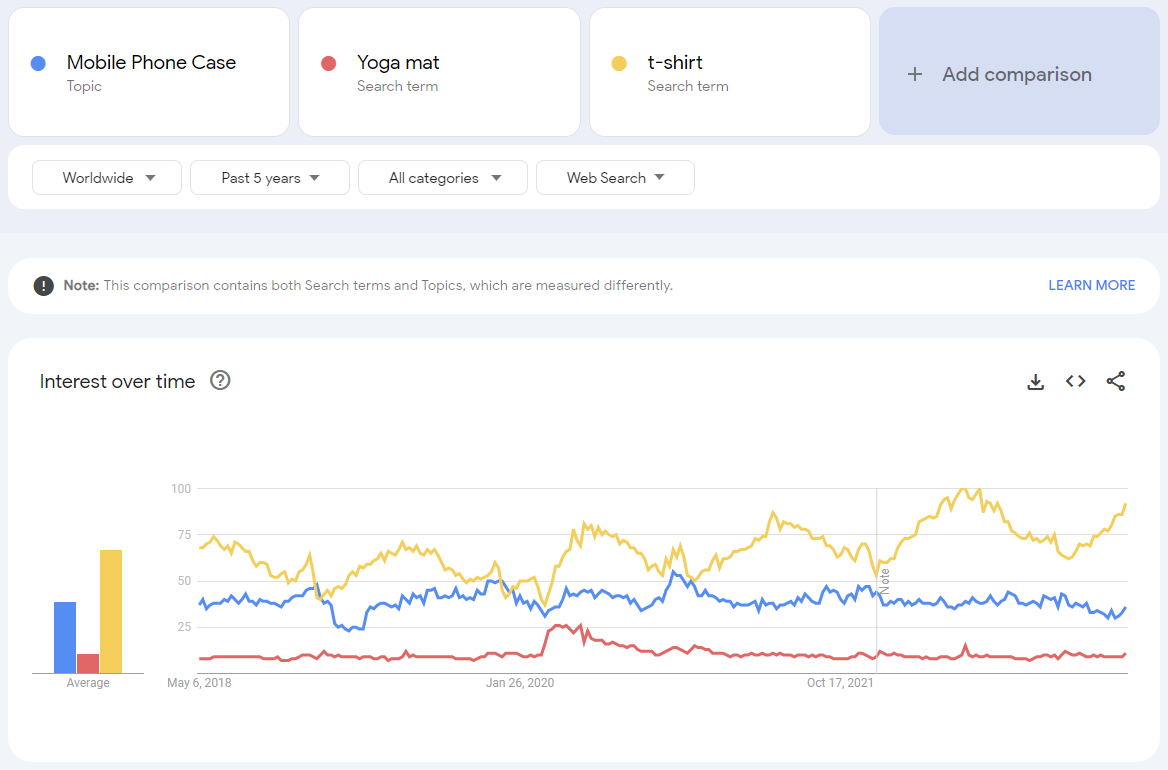 Step 3: Research the market segment
Researching the market segment means determining the potential success of your product, and looking for the market segment where it has demand.
For example, if you're planning to sell phone cases, you should check things such as;
What are the available materials?
Which demographic has a high demand for them?
Which age group has a higher interest?
What is their lifestyle type?
What are the distribution channels?
Actions to follow:
Open Google
Search "[product_name] market segmentation"
Visit any links shared on SERP
Step 4: Check if targeting your audience is easy or hard
After doing this, you'll get an idea if selling your chosen product on an eCommerce website is profitable or not. But how you'll know if targeting the right audience is easy or not?
Well, that is a simple process, and the actions below will help you determine if targeting your audience will be easy or not.
Actions to follow:
Open Google
Search "potential customers of [product_name]"
Run through various sites to gather data
I searched for "Yoga Mats", and here's what I've found.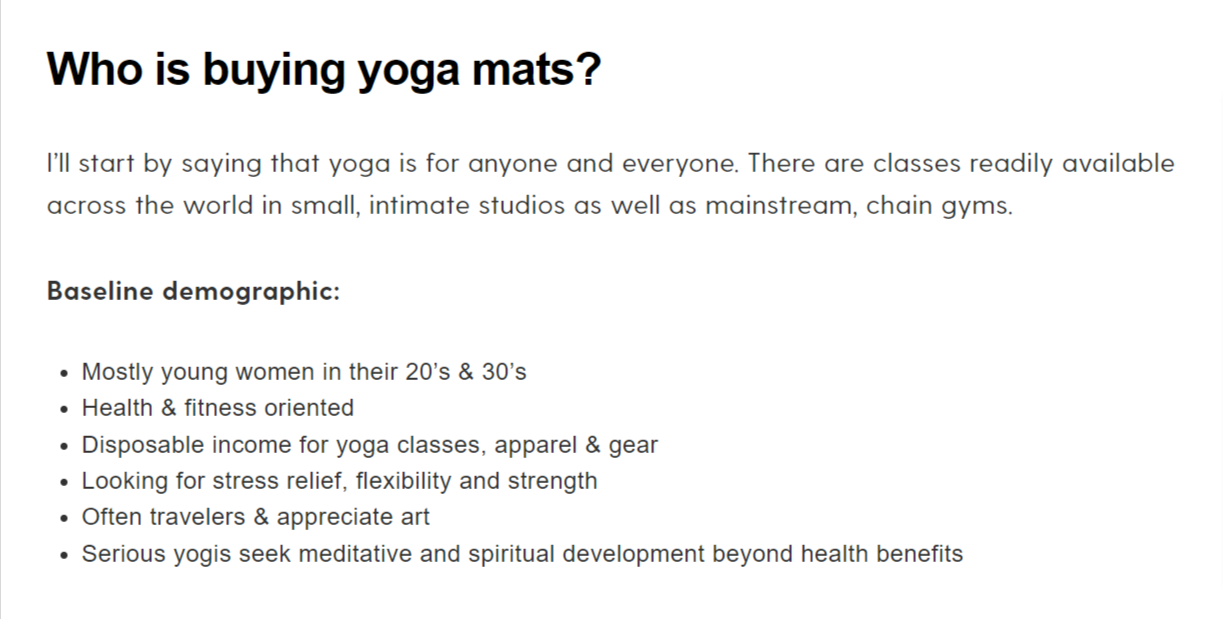 If you don't get data in one go, keep finding using relevant keywords without giving up. Lastly, when it seems hard to target your audience for any product consider that product as a "No".
Step 5: Chat with existing sellers and end users to gather feedback
It's always a good idea to seek feedback from existing sellers and end users to get a clear understanding of what can go right or wrong.
Conversing with them will help you understand their perspective on the product and whether their experience with it has been positive or negative.
Actions to follow:
First of all, find a way to get in touch with the seller and discuss the questions that I've added below.
What is the return rate for the product?
What's the good profit margin?
What margins do they need to make?
Do they receive any special discounts from suppliers or manufacturers?
Are there any hidden costs to consider when pricing products?
How many units are sold per month?
Is the product's online sales stable or seasonal?
What's the restocking time for inventory?
Moreover, you can also look at various online stores that sell similar products and study their working patterns. By doing so, you can gain valuable insights and improve your product to meet the needs of your target audience.
For getting in touch with your end users, you can product forums such as; Product Hunt and Quora can help you.
It can help you identify high-profit margin products and products with high demand. By incorporating these strategies, you can stand out from the crowd and make the most out of your eCommerce business.
Conclusion
Here we're done with knowing and understanding some of the most trending products to sell on online stores and an outline to find similar ones on your own.
Now is your time to convert these trending product ideas into hard cash and build a successful eCommerce store. For doing so, you'll need an effective marketing strategy. This article based on "Effective ways to promote your eCommerce website" will help you with that.
Hope you found this blog informative and gained knowledge from it. But if you still have any doubts left in the corner of your mind, you can anytime contact us here.
Grow your online business like 2,599 subscribers